It's what connects us all.
OUR STORY
If the definition of a road is a pathway from somewhere – to somewhere, then The Roads is the perfect name for the collaboration of Mick Devine and Gary Pihl. Each musician has had a long journey from humble beginnings to incredible heights. Mick with the band Seven and his solo career and Gary as former Sammy Hagar Band guitarist and current guitarist with the band Boston have focussed their talents toward a new destination. Their intersection at this moment for their debut, Simple Man, promises to be the culmination of their experience and desire to go farther than they've ever been.

The seeds for this musical endeavour were first sown when Escape Music Khalil Turk sent the Turkish Delight song, 'Get Out Of Here', to Gary Pihl so that he could add guitars to it. "I was flattered that he wanted me to participate with the rest of those excellent musicians, but I had some ideas about how to change the groove of the song," reveals Pihl. "That required changing the drum parts and Khalil gave me free reign to try it. He put me in touch with the drummer, Josh Devine. I'd always admired Josh's terrific work with One Direction and Levara and as I told him my groove ideas, he knew exactly what I was talking about and of course, made the drum track even better than what I imagined." 

In turn Pihl wanted to know the identity of the songwriter, which Josh Devine revealed was his father, Mick Devine, one of Escape Music's artists, Seven. Never one to miss an opportunity, Khalil Turk could see the chemistry developing and suggested they work together. "After about two minutes on the phone with Mick, I could tell he was a smart and talented guy with a great singing voice and eager to write some thoughtful lyrics and rocking songs," says Pihl. "That's what was most appealing to me."
The song writing throughout was an equal affair between Pihl and Devine. With Pihl adamant that he did not want it to sound like Boston, he certainly acknowledges that they have been inspired by every other band that's come before them, but that they strived to be unique. "We never set to write with any direction in mind," reveals Mick Devine. "The songs naturally formed as we worked making it by far the most collaborative writing partnership, I have been involved in. We very quickly realised that we had something special and the songs we were writing would really stand up and we are both so proud of this work."
But great songs require great musicians and joining both Pihl and Devine in this exciting new adventure are a myriad of experienced recording artists. According to Pihl, "using Mick's son, Josh for drums, was the easiest choice." Having worked with One Direction and Levara, his ideas set the stage for the rest of the musicians to lock into. With Pihl's Boston partner of over ten years, Tracy Ferrie, joining on bass, the keyboard parts were deftly handled by session player Neil Miller and Winger's Paul Taylor, an old band alumnus of Pihl's from years ago. With Lawrence Gowan graciously agreeing to play keys on three songs, Pihl had always admired his work with Styx and of course his own band, Gowan. Even though he was so busy with Styx, through the magic of remote recording, he was able to send his fantastic ideas. "I told him I didn't want listeners to say, "that sounds like Styx keyboards" I want listeners to say, "that sounds like Lawrence Gowan!". With Pihl's son, Scott, adding guitar and Mick's wife, Lin and son Ben adding vocals, The Roads – a name created by Khalil Turk – were ready to roll. 
With Escape having been instrumental in quality releases from both Pihl's outfit, Alliance, and Devine's band, Seven, you can guarantee that this album is going to uphold that fine tradition. The album's sound comes from a time when North American AOR behemoths ruled the airwaves and if you look closely, you'll detect traces of those bands in its DNA, but it's armed with an identity all its own. From the lush, expressive vocals of Devine, through to Pihl's subtle and understated guitar playing, The Roads is a destination and a journey that's got plenty of miles left on the clock, one that you'll want to take time after time. 
ROB EVANS – POWERPLAY AND FIREWORKS MAGAZINES – OCTOBER 2022

Interview by Paul Gregory
Gary Pihl (guitarist for Boston, Alliance) and Mick Devine (vocalist for Seven, solo artist) have teamed up and called their band The Roads. They have just released a fantastic album called 'Simple Man' which has hints of Styx, Heartland, FM, Foreigner and other like melodic bands. They have both had interesting pasts in the music business so Fireworks had a Zoom meeting with Gary in the USA and Mick in the UK to discuss that history, the new album and their future projects. 
You have both been in the music business for some time; tell us something about your experiences over those years. 
GP: My history starts with eight years in Sammy Hagar's band. We played in the UK a few times and recorded an album there as well. I certainly had a great time over there and it's where I was given my nickname of Gaz. From then on, our bass player called me Gaz and still does to this day. We opened for Boston at the end of their very first tour in 1977, and then did their entire second tour in 1978 and 1979. We got to know the guys pretty well and kept in touch. When Sammy got the call to join Van Halen, Tom Scholz said to me, "Hey, why don't you come over here and help me work on the 'Third Stage' album?" I've been here ever since, thirty something years or so and we're still going. The fans love the new songs and of course they want to hear the old songs too. We did four tours in a row, just prior to Covid, which was more than we'd ever done in the past. Tom said, "I don't ever want to retire, but let's take a break".  So I said, "Okay". Then of course, Covid hit, so I don't know when we're going to hit the road again. 
MD: I was born and raised in Rhodesia (Zimbabwe) and South Africa, listening to Boston actually. I've said that before, but it's absolutely true. I came over with a band to try and break the big time in the UK. It was two British guys and two South African guys and we called the band Seven. We did okay. I mean, well, we didn't do okay! We got a record deal with Polydor, released a couple of records but nothing really bit. I think part of the problem was we had a boyband kind of look but we played an AOR kind of Rock; we looked like we could have been in Bros or some band like that! So they got us doing the Pop shows filmed in Manchester and all the kids programs, which was a bit of an odd thing to do with Polydor. We also toured with Brother Beyond and with Jason Donovan, but then we toured with Richard Marx which was really good for us because that was exactly our genre. Then it came to a bit of a crashing end about five years after we began really because the kind of music we were playing wasn't right for the UK at that point in time. That whole Manchester vibe was all happening but we couldn't be further away from it. I think, at the time, if someone had a little bit of vision and pushed us to the States or into Northern Europe somewhere, we probably could have kept going and done some good stuff, but no, it sort of had ran its course. After Seven, I toured a bit with other people in Europe. And then my wife fell pregnant with my second son, and it was, cut your hair and get a job because I couldn't carry on trying to do the music thing anymore. So I literally had to change my life. Later on I kind of worked with my son through his life as he was growing up as a drummer. Recently there was a studio recording on an Escape project. I was chatting with Khalil Turk and he said, "Oh, you know, I loved Seven, such a shame they never got the album out". I then got together with another member of Seven to do an album of all the stuff we should have released back in the day. Khalil put me in touch with a whole load of guys, I started to do some writing and we wrote a second album which was released under the name of Seven as well. Following that I worked with Steve Morris from Heartland and we wrote my second solo album which was called 'Here Now'. Since then I've just kept on working with Khalil, doing a lot of writing. 
The new album is full of fantastic melodies, what can you tell our readers about it? 
GP: Okay, I'll tell my side of the story. Besides Boston, I've been in a band called Alliance, on Escape Records. The President of Escape, Khalil, was putting together his 'Turkish Delight', 30 Year celebration album. He asked me if I wanted to participate, and I said that I'd be flattered to be part of that. So he sent me a song that he thought might be appropriate for me to play on, I heard it but I wanted to change the drum groove. So I spoke to Josh Devine (drummer) and he knew exactly what I wanted. I said, "Gee, I hope the songwriter doesn't mind what we're doing to the song and Josh says, "Well, as a matter of fact, one of the songwriters is my dad, and you should talk with him". So I started talking with Mick about working together. I said, "How do you want to start this?" And he said, "I have this song I've written, I don't like the music on it but I've got the melody and words". So he sent that to me, and I said, "Okay, I'll give that a go". But all he sent me was the vocal track. So it's just like, "Oh, my gosh!" I've never worked like that before as there's no metronome, so I didn't know what the tempo was, no indication what the key was and there's no guitar either, just him singing alone. That's it. I said, "Wow, this is a challenge." But I'm in for it because his voice is so good and the melody and lyrics were good. Once we did that, we said, "Hey, let's keep going, this seems to work." Then we became more collaborative and, you know, I'd have a guitar riff, he had some vocal lines and we'd just go back and forth and through the miracle of recording these days, we could do that 3000 miles apart.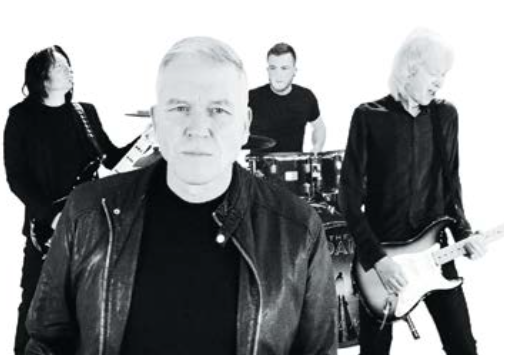 MD: Working with Gary has been completely different from the other projects I've done. We've kind of written it as if we were in the same room but we're not, of course. So it could start with a melody, it could start with lyrics, could start with music, but it was constantly going back and forth. So we had a pretty cool groove, really, about how we work together. And I just think we've got very similar tastes.
So typically, how long would one track take between the two of you?
MD: It would take weeks… only because of the time lag of getting the idea and having a chance to think about it, work on it and then send it back and forth. Because we didn't have a time deadline, we just let the songs percolate as they did.
How did the rest of the families get involved on the album?
MD: Yeah, that was interesting. I mean, my son Josh is a good drummer and it was just a no brainer. It's been something I've always wanted to happen and I think for him too. And then Lynn, my wife, works with me in my home studio when I'm recording. She's a good critic and an excellent engineer as well. So there're times I'll sort of fight back a little bit because I don't see it the same way, but generally she's right! I did most of the backing vocals but she's singing on there too. Then my youngest son came up one weekend and we got him singing on some stuff as well. And Gary did the same with his son, who's a pretty cool guitar player. So we were having such fun with it really because we were playing with great musicians. It was recorded completely live and I think you can hear that, it does sound like you've got a whole load of guys in a room. We're not in the same room, but it feels like it. So that was the bit I loved about it, every single song was easy and a pleasure to work on. I couldn't say any of them was more difficult than another to write and record. It's just been a smooth, easy, collaborative process really.
What tracks would you recommend to people to listen to so that they get a flavour for the album?
GP: 'Let's Not End Like This', it's just such a great opener. Just the guitar, then Mick starts singing and the band comes in. I would love to play that live.
MD: 'Love So Strange'; I think it's a really interesting ballad and 'Save You From Your Yesterday'. The ending where Gary is playing off the keys and the drums are just going for it, the bass player's going for it and it just finishes like they were standing in the studio playing together.
What does the future hold for you both?
GP: I have asked if there's any way that we could do some festivals or something in the UK, but we'll have to wait to see if that can happen. In the meantime, Mick and I just keep on going and have just started writing some more songs for a second album and songs for other bands. I hope people hear this album and go buy the CD. I think it's so important these days with what's happening in the music industry. Unless we can get people out there buying a few CDs and supporting the music, it's just not going to be possible for young musicians to keep going. Some of the new bands are going to disappear.
MD: We also have a songwriting, arranging and performance service we call Devine Appeal. We help bands or solo artists or songwriters by writing a song for them or fixing an existing song of theirs. We'll even play guitar and sing on it, if desired.
The album was released in November 2022 on Escape Music, and can be purchased from: www.escape-music.com